Anya's Oscar Red Carpet Trends!
From the Oscars red carpet to my seat inside the show, to all the after parties, I couldn't have been any closer to the Oscar glam!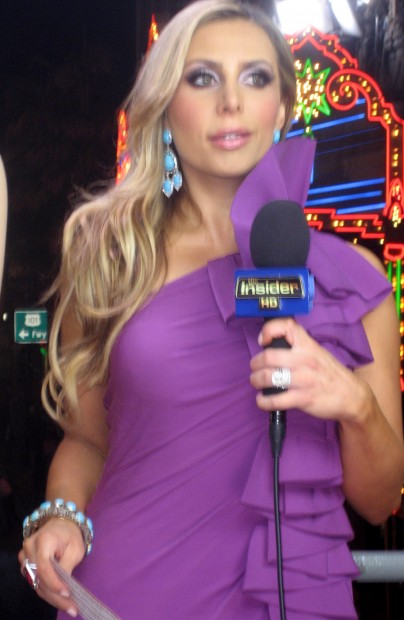 The Oscars were all about fashion this year. People weren't afraid to take a risk and push the fashion envelope. As predicted, it was all about soft neutrals mixed with metallics. Sandra Bullock, Cameron Diaz,Miley Cyrus, and Jennifer Lopez were each in light soft magical and metallic gowns. Everywhere I looked I saw a sparkle that stole the show!!
Oprah Winfrey in navy, Mo'nique in Cobalt, and Gabourey Sidibe in midnight blue; they all got the blue trend memo! Speaking of Gabourey, I chatted with her on the red carpet as she was retouching her make-up for her interview onEntertainment Tonight. She was glowing in herMarchesa gown and was excited to show her gigantic blue Lorraine Schwartz jewels. I was happy to not see too much black and was loving the light lavender lilacs on Charlize Theron, Zoe Saldana, and Queen Latifah (which is the "it" color for spring!!). Feminine details were everything—Ruffles, rosettes and red as worn by Vera Farmiga,Diane Kruger, and Elisabetta Canalis.
I've been previewing hundreds of Oscar gowns for months now, but for some reason always wait until the last minute to choose mine! I chose a Robert Rodriguez one shoulder purple ruffles gown, paired with turquoise and diamond Neil Lane jewels and sky-high YSL heels. A quick style tip, platforms make that sexy heel wearable!
What a night! Hollywood is in recovery mode, no traffic, Rodeo Drive and Robertson Boulevard are ghost towns, and everyone is at home counting down the days until the next Oscars!!!!
For everything fashion and fabulous visit my web site at www.anyasarre.com.
[via TresDope.com]