Styling
Anya Sarre is an internationally known fashion stylist, tastemaker, and brand influencer. She has been featured on numerous television outlets and in hundreds of magazines and online publications.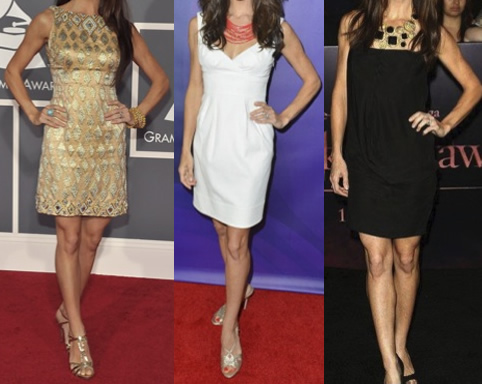 As a celebrity stylist, Anya has dressed talent, presenters and nominees for hundreds of red carpet events including the Academy Awards, Golden Globes, Emmys, Grammys, and Cannes Film Festival. Anya has won awards such as "Best Fashion Stylist for TV" for the POSHGLAM Awards and "Visionary Fashion Stylist Award" at the Bel Air Film Festival.
A makeover expert, Anya is a regular guest Fashion Stylist for "Makeover Mondays" on Home and Family, the two time Emmy nominated show on the Hallmark Channel. She was the Fashion Stylist for David Tutera's hit show CELEBrations on WE.
Sarre is known for being able to style a luxe look, without breaking the bank. Her television segment "Lara's Look for Less" (with Good Morning America's Lara Spencer) aired five nights a week from 2009-2011 on  on CBS and was a hit with millions of viewers who loved Sarre's tips and tricks for dressing on a budget.
As a Fashion Stylist in Television, Sarre has spent years cultivating and nurturing relationships with hundreds of designers, showrooms, brands, and clothing and accessories manufacturers. Known for her inside access and contacts, she is often asked to consult with television shows to get them VIP discounts and set up trade deals.
Sarre has been featured on Television shows including Entertainment Tonight, The Insider, Extra, The Rachael Ray Show, The Ricki Lake Show, The CBS Early Show, VH1, the STYLE network, Home and Family, Associated Press TV, TV Guide Network, KTLA, CBS2/KCAL9, and more.
She has been featured and profiled in Variety, The Hollywood Reporter, LA Confidential, GenLux, 944, Life and Style, Watch!, the Wall Street Journal, and CelebrityBabyScoop to name a few.
As a contributing editor to Inside Weddings Magazine, Anya's three-page spread "Celebrity Style with Anya Sarre" showcases wedding trends and style inspiration. She is also a regular contributor to OK! Magazine, US Weekly, InTouchWeekly.com, SheKnows.com, SheFinds.com
She has regularly guest lectured at USC for both undergraduate and graduate classes in the Annenberg School for Communications and Journalism (her alma mater). Anya had the honor of teaching the Visual Communications and Styling class as an expert professor for a semester at the Fashion Institute of Design and Merchandising, Los Angeles.
Anya has served as the fashion director for YouCeleb, the Chief Handbags and Accessories Stylist for ShoeDazzle, and has been the brand ambassador to numerous fashion, beauty, and lifestyle brands.
Anya loves dressing all different types of people, ages, and body types for every different occasion.  From the casual, everyday look, to a closet update, to a special event, graduation, bar mitzvah, wedding, or awards show.
Click here to inquire with Anya's team: